DARREN JANSEN HAD A VISION:
To change people's lives by helping them achieve and maintain their optimal level of physical and mental fitness. That vision became a reality when he opened Results Fitness and Performance Training in October 2000.
"I wanted to create an environment where goals became results and clients became friends," said Darren, who has done exactly that. Results has built a reputation as a warm and welcoming studio where the focus is on the individual.
Darren and his team of certified professionals know what works — and what doesn't — when it comes to personal and performance training. They are passionate about researching and integrating the latest techniques to maximize the potential of their clients: Men, women and athletes of all ages — and fitness levels — seeking the best possible health, fitness and athletic performance.
Results offers comprehensive — and affordable — one-on-one and group personal training, sports performance enhancement, pain management, nutritional guidance, group cardio sessions and corporate fitness programs.
Equipment is designed to promote streamlined, efficient and effective training, and Results offers session and trainer flexibility to meet each client's personal needs and schedules. The studio is conveniently located in the heart of the Ramsey, New Jersey business district with on site parking.
The Results team is privileged to support clients in living a healthy lifestyle and reaching — and exceeding — their fitness and performance goals.
"I was 45 pounds overweight with constant shoulder and back pain. Results started me on a corrective exercise program that helped me lose the excess weight, gain muscle, and eliminate the pain. I have never felt better."
–Arthur Abad
"Through consistent strength training under expert supervision and recommended changes to my diet, I have increased my strength and energy – and lost 22 lbs. I strongly recommend Results to anyone looking to establish or renew their commitment to a fit and healthy lifestyle."
–Dom Pisciotta
"When I started training at Results I had chronic lower back pain and numbness down my leg. Thanks to a customized program of advanced corrective stretching and strengthening techniques, I am now pain-free with more strength, energy and muscle tone than ever."
–Kim Hitlin
"I was overweight, sedentary, and on medication for diabetes and high blood pressure. Results put me on an intelligent weight-loss program and in five months I lost more than 30 pounds. My blood sugar, blood pressure, and cholesterol plummeted and I feel like a new person."
–Joel Cahn
"Since our son has been training at Results, we have seen a tremendous difference in his speed, agility, quickness, and timing. These improvements have helped his performance in all of the seasonal sports he participates in."
–Parents of a 17-year-old athlete
"After the birth of my second son, I needed to lose 30 pounds. I decided a personal trainer would maximize my time and effort, and Results' friendly and knowledgeable professionals sold me immediately. I've lost 47 pounds and 6 dress sizes, increased my body strength, and continue to enjoy the cutting-edge techniques my trainer incorporates into my workout."
–Danielle Carr
"Results has supported me from the start and challenged me as my ability increased. They helped me understand muscle structure and suggested at home exercises to compliment what I was doing with them to help with my hamstring injury. I am stronger, more balanced, have better posture and body shape."
–Rosemary Raciti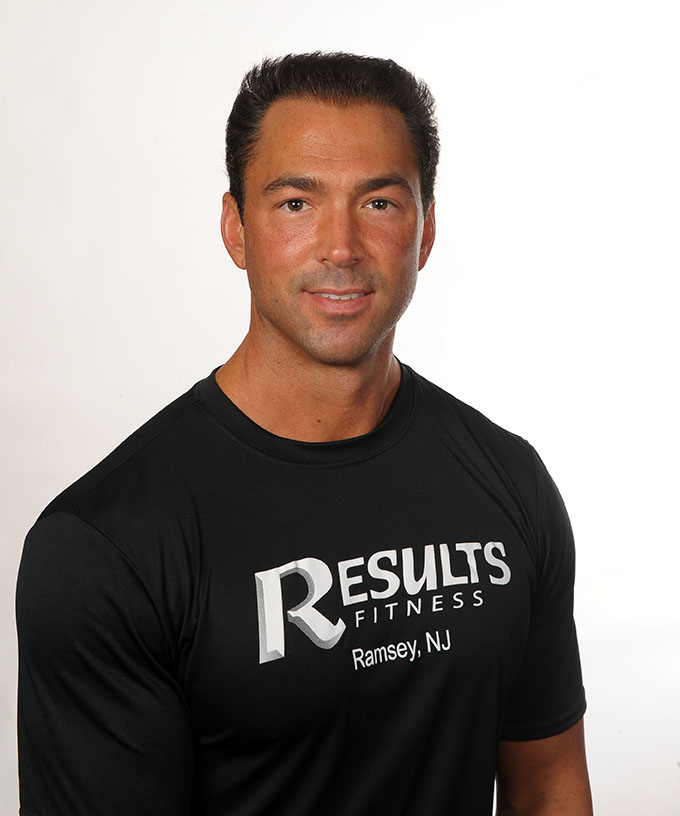 ABOUT DARREN
Darren Jansen is extremely passionate about being fit and healthy – and that's what Results clients love most about him. His enthusiasm for deciphering trends in physical and mental fitness and nutrition – and using his knowledge to help clients achieve success – are the hallmarks of his 20-year career as a fitness and performance training professional.
A graduate of Montclair State University with a Bachelor's degree in Exercise Science, Darren is certified by the National Academy of Sports Medicine as a personal trainer (CPT), performance enhancement specialist (PES) and corrective exercise specialist (CES). His dedication to learning and sharing expertise has made him a popular speaker on topics including body fat loss, athletic development, nutrition, and pain management.
THE RESULTS TRAINING TEAM
Each member of the Results training team shares Darren's business philosophy and values, and is committed to providing clients with the best possible experience. They hold degrees in exercise science and the highest levels of certification by the most respected, nationally accredited fitness and performance organizations in the industry.
Brian Apostol
A graduate of William Paterson University with a degree in Exercise Science, Brian has been training clients of all ages for over eight years. He has always had an obsession with health and fitness, and grew up playing sports. His playing days may be over, but he still enjoys watching collegiate and professional sports. And despite a busy work and family schedule, Brian makes time six to seven days a week to work on improving his physical fitness.
"I help clients find that balance between attaining their fitness goals and not sacrificing the things they enjoy in life."

Melinda Rothman
Melinda earned her Bachelor of Science degree in Health and Exercise Science from the College of New Jersey (TCNJ).  She is a Certified Strength and Conditioning Specialist (CSCS) through the National Strength and Conditioning Association.  She was a Track and Field athlete throughout high school and college.  Her love for fitness and athletics led her to work with men, women and children of all ages in one-on-one and small group training.
"My goal is to educate and motivate clients on how to live a healthy lifestyle and perform at their best."
Michele Kuslansky

Michele's unique style and talent is her ability to liven up tired old fitness routines. While fitness training was always an integral part of Michele's life, she made her passion her career eight years ago and she hasn't stopped since. From spinning and group training to teaching at a corporate wellness center, Michele is always on the move. When not teaching, Michele is planning her classes and finding new and exciting music to keep things interesting. Michele is AFFA, Madd Dogg and Les Mills Bodypump certified but her greatest certification is her avid fan base of loyal gym goers who seek out her classes for their daily dose of sweat. On any given week Michele has been known to teach upwards of 15 classes and still have room for her personal one on one clients and her most loyal fan…her dog.
"I can write a million motivational quotes, but the truth is YOU need to want it bad enough to get moving and achieve the level of fitness you desire."
Sara Brooks
Sara's high energy, knowledge and dedication with over 12 years experience have impacted hundreds of individuals of all ages and fitness levels through one-on-one and semi-private training, bootcamps, and group aerobics. She earned her BS in Exercise Science from Castleton State College of Vermont, and is a Certified Personal Trainer through the National Academy of Sports Medicine. She also holds certifications from American Fitness Professionals and Associates (AFPA) in WMC, NWC and Madd Dogg Spinning. Sara's passion for fitness is evident in her love for racing, including running 5k,10k and half marathons, sprint triathlons, and various obstacle course races.
"For as long as I can remember, I've had this desire to educate people about maintaining a healthy lifestyle through exercise and balanced nutrition."
Jamie Dawson
Jamie has been an avid proponent of exercise and proper nutrition for over 35 years.   His lifelong dedication to embodying a healthy lifestyle has fueled his desire to help others achieve the same – whether through one-on-one trianing or group exercise. A graduate of East Carolina University, Jamie is certified by the National Academy of Sports Medicine as a personal trainer (CPT), a golf fitness specialist (GFS), a fitness nutrition specialist (FNS), a performance enhancement specialist (PES) and a corrective exercise specialist (CES). He is known for designing diversified workouts that prepare clients for whatever life throws at them each day.
"Improving your fitness level means getting through a normal day and feeling like you're still ready for more."
Mike Cuccio
Mike is completing his degree in Exercise Science from William Paterson University. His passion for health and fitness began at a very young age and he has studied and evaluated all types of exercise and nutrition protocols. All this has led Mike to the path he is on now, which is to constantly seek out new information and techniques to maintain a healthy lifestyle. Mike knows all too well that there is so much information and confusion surrounding health, exercise and nutrition. As a result he devotes countless hours researching and applying whatever tools he can to understand what it means to be healthy; he is passionate about sharing and teaching what he has learned with people, and help them take control of their health.
"Getting control of your health and fitness is the first step to creating a life full of happiness and vitality.  I truly believe by achieving this we can change the world."