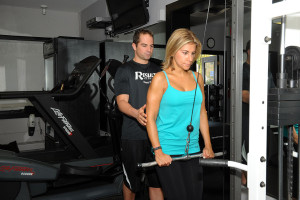 At Results, we are fit for everyone. We meet clients where they are at – we ask for you goals and work with you instead of applying a one-size-fits-all model. 
Join us for a free one-hour consultation and discover how we customize fitness plans and programs to your individual needs.
PERSONAL TRAINING
At Results, we put the "personal" in personal training. Our training specialists work closely with each client to create customized programs that help them meet their personal goals and maximize their potential – whether they work out one-on-one or with a friend. Results programs are designed to:
Increase strength, flexibility & balance
Increase cardio-respiratory
Increase lean muscle mass
Reduce body fat
Increase energy and endurance
We also offer nutritional guidance to help clients make sense of the constant flow of information about what and how to eat. Our guidelines are based on scientific information and we have proven success in lowering body fat, increasing energy levels, improving sports performance, and supporting overall health.
PAIN MANAGEMENT/THERAPEUTIC EXERCISE
We believe in living a pain-free life. At Results, we understand that most pain originates from muscle imbalances that cause joint dysfunction and can result in injury patterns in the body. Common areas where pain occurs include:
Lower Back
Neck & Shoulders
Knees
Shins & Ankles
These issues can be corrected and managed through proper stretching and muscle release techniques combined with our corrective strengthening exercises. These techniques restore normal extensibility and muscle balance while enhancing training results, sports performance, and quality of life.
PERFORMANCE TRAINING FOR ADULTS & YOUTH
If you're an athlete, we're on a mission to maximize your physical and psychological potential. Because athletes are only as strong as their weakest link, Results has used extensive research to develop an integrated approach that combines a variety of techniques and advanced one-on-one training methods for optimum results. All athletes undergo an evaluation to assess muscle imbalances, power, strength, speed, agility, flexibility, and dietary habits. Customized training regimens address:
Maximum power, speed & agility
Core muscular strength
Balance stabilization
Integrated flexibility
Injury prevention
Junior Athletes: The earlier young athletes develop a proper foundation in fitness and performance training, the better they will become. Results designs specialized programs for junior athletes to improve performance, develop motor skills, and build confidence.
CORPORATE FITNESS
Employee health costs continue to rise at an alarming rate. One proven way to control those costs is to invest in an onsite fitness facility or optimize your current investment with an employee wellness program. Benefits include:
Improved morale and productivity
Fewer health insurance claims
Lower health insurance costs
Healthier employees & lower absenteeism
Results provides corporations and business owners with a turnkey solution to wellness center management. We offer fitness training, nutritional counseling and pain management services for employees, as well as fitness management and design for corporate wellness centers. This includes facility layout and exercise equipment selection. To schedule a consultation, contact Darren Jansen at 201-934-5400.